Hey all,
Another poker run coming up. This one is sponsored by HUB city ABATE. This is a political action group for bikers, by bikers. Good group of folks. They led the charge with Bike PAC for the recent change in Red light law for bikes - i.e. if you sit at a red for 2 cycles and it won't change, you can run it (safely) without getting a ticket. They almost had lane sharing through (I know, maybe controversial, that said, I thought it was great in CA). This group is doing something for us all. A worthy cause.
I am planning on riding this with my wife right now. I will let you all know if that changes.
Details:
Saturday June 4. Start: Humpty's Dump Bar & Grill - First bike out at 10 AM, last at 11 AM. Ends at Pineway Golf course in Lebanon. Last bike in at 3 PM. $100 high hand, $50 low hand. Raffles and 50/50.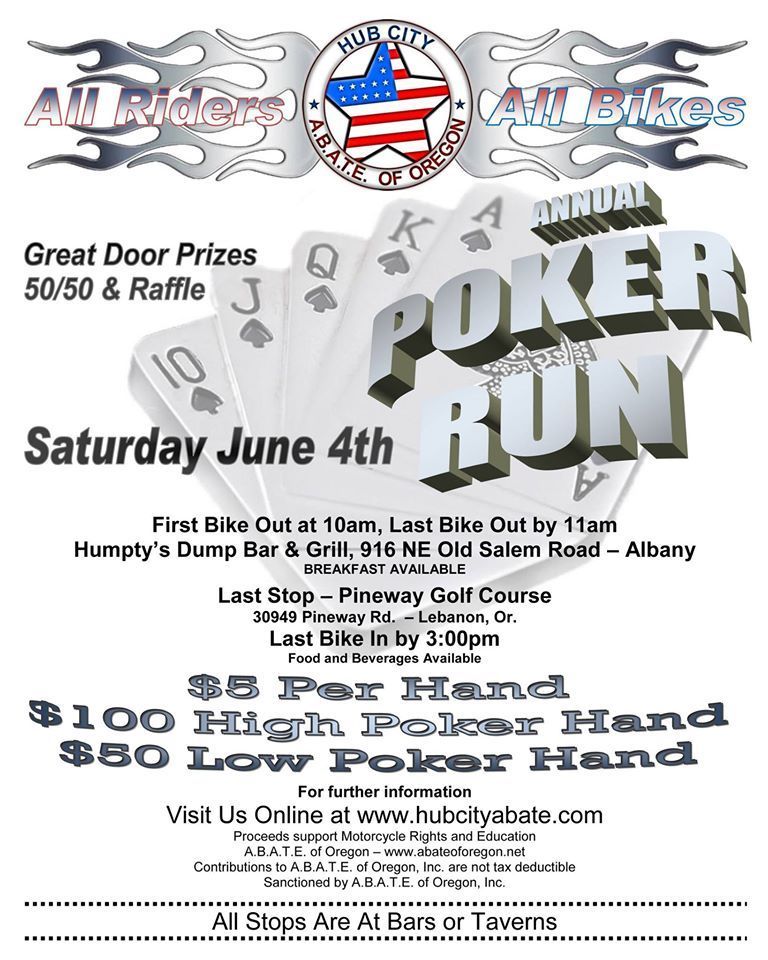 ---
Bump to refresh. This is Saturday!

The forecast is looking to be B-E-A-U-tiful!

I may be helping with the poker run vs riding - likely manning a table for drawing cards. My nephew is on leave and visiting the family, so I will be unable to attend the entire event. I hope some of you can attend!
---
Do come on the run! It's a super nice group of folks, not just cruisers although they do seem to be the majority. Joe and I will be there, if you see us come say hi. He has a trike, I have a Fat Boy S. If that's not a good enough description, he's the older guy with long white hair and I'm in my late 50's, long brown hair.
---
See you there.
---
Looks like we are going to try and make the run vs help with a card table and then run up to see my nephew on leave (Navy) afterward. It will be a busy day and a couple hundred miles!
It is a great group of people who are thrilled folks are on two wheels. My wife will be riding a HD peace officer special heritage softail and I will be on my geezer glide (electra glide ultra limited - big cushy touring model with awesome upgraded sound system...sorry if I am too loud
).
Hope you see you there!
---
Who is online
Users browsing this forum: No registered users and 1 guest